Angelica at a glance
Located on the second floor (with lift) of an important Venetian Palazzo on the Grand Canal, this two-bedroom / two-bathroom apartment is a classically designed home which effortlessly combines comfort and style.

Property description
Angelica is a spacious and refined apartment ensconced at the back of an amazing Venetian Palace, with views onto a quiet tucked away campo. The apartment comprises an elegant living/dining room, a small well equipped kitchen, two bedrooms (double/twin or double) and two bathrooms (one tub/ one shower), as well as access to a spectacular communal terrace.

The marble bathrooms are beautifully presented with luxury amenities and velvety towels. Mattresses and pillows come from one of the world's leading bedding companies, Simmons, providers to the Four Seasons hotels, and assure the maximum comfort.

This apartment, like other three available in the same palazzo (Alba,Zafferano, and Leonora), has been recently revamped by a who's who of interior design in a savvy combination of styles which elevate the building's classic architecture to a higher standard of comfort and sophistication.

Angelica can be linked through an internal staircase to the apartment Leonora one floor below.
This is one of the apartments in Palazzo Grand Canal apartments.
Further information about this apartment
Floor plan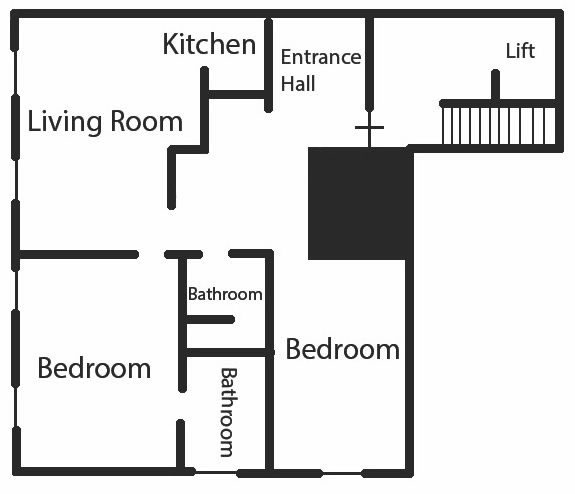 Location
San Marco
This is the historical centre of the town with Piazza San Marco at its very heart and with Venice's most coveted museums: Palazzo Ducale and Museo Correr. The buildings in this area of town are all on a fabulously grand scale. You will find most of the designer shops and luxury brands around here, including a number of fine jewellers and designers hidden among the colonnades of the piazza itself. The best time to visit is in the evening when the sun sets over the curved domes of St. Mark's Basilica and live music sweeps across the piazza, defined by Napoleon as the "finest drawing room in Europe".
Please note that the booking/cancellation policy for this apartment is slightly different to our other apartments. Download the policy for this apartment (PDF)