Alba at a glance

Located on the third floor (with lift) of an important Venetian Palazzo on the Grand Canal, this two-bedroom / two-bathroom apartment is an impressive home effortlessly combining comfort and style.

Property description
Alba's tall windows frame, as in a postcard, the quintessential Venetian dream. Mesmerising views encompass the most significant monuments of Venice, with glimmering reflections on the rippled waters of the Grand Canal. An ever-lasting spectacle of which you will never grow tired.

The large living room and the master bedroom overlook the Grand Canal. You will wake up in the morning to the sound of lapping water, boats of all types, the bells of San Giorgio Maggiore and the soft whispering breeze.

The two marble bathrooms are beautifully presented with luxury amenities and velvety towels. Mattresses and pillows come from one of the world's leading bedding companies, Simmons, providers to the Four Seasons hotels, and assure the maximum comfort.

A compact and well equipped kitchen allows the preparation of breakfast and light meals. In addition there are excellent restaurants close by such as Harry's Bar, the Bauer's De Pisis, the Gritti's Club del Doge, and the Osteria San Marco.

This apartment, like the other three available in the same palazzo (see Zafferano, Angelica, and Leonora ), has been recently remodelled by a who's-who of interior design in a savvy combination of styles which elevate the building's classic architecture to a higher standard of comfort and sophistication. Some of the furniture was originally designed for the Palazzo in 1826 by Borsato, a painter and designer who also left his mark on the Teatro La Fenice.

The residence also boasts a communal terrace on the 5th floor with stylish outdoor furniture, affording awe-inspiring views of the lagoon and the rococo dome of Santa Maria della Salute.

This is one of the apartments in Palazzo Grand Canal apartments.
Further information about this apartment
Floor plan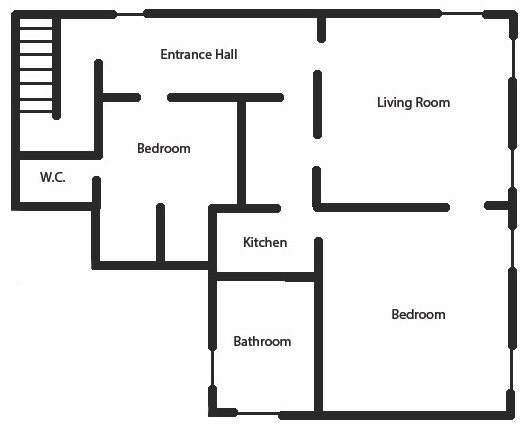 Location
San Marco
This is the historical centre of the town with Piazza San Marco at its very heart and with Venice's most coveted museums: Palazzo Ducale and Museo Correr. The buildings in this area of town are all on a fabulously grand scale. You will find most of the designer shops and luxury brands around here, including a number of fine jewellers and designers hidden among the colonnades of the piazza itself. The best time to visit is in the evening when the sun sets over the curved domes of St. Mark's Basilica and live music sweeps across the piazza, defined by Napoleon as the "finest drawing room in Europe".
Please note that the booking/cancellation policy for this apartment is slightly different to our other apartments. Download the policy for this apartment (PDF)