Palazzo Lena at a glance
Palazzo Lena is a spectacular three-bedroom/three-bathroom apartment located in the picturesque and authentically Venetian Castello area. A highly decorative piano nobile, recently restored to the highest standards of comfort and sophistication.
Property Description
The glimmering terrazzo floors are original to the palace, and the magnificent stuccoed walls and frescoes have just been restored to their original state, reprising the colours of the early 1600's when we like to think that the palace was visited by Casanova, who lived in the vicinity.

Friedrich Nietzche resided in this beautiful Venetian palazzo, and the large library in one of the bedrooms plays tribute to him.
Lena has everything: history, spanning views, large canal-side terrace with ample seating room, incredible historic features and state-of-the-art kitchen and bathrooms. There is also a private water gate, where guests can luxuriously arrive aboard a private mahogany water taxi.
The furniture is an eclectic mix of period and contemporary pieces, with antique chandeliers and mirrors from Murano, France and Italy, in contrast with drapes by the Venetian textile-designer Rubelli.

Living Room
The living room comprises fabulous Liaigre sofas, juxtaposed with amazing artwork by French contemporary artists Nicolas Pol and Araso.

Dining room
The elegant dining room flanks a modern kitchen with brass-clad cabinetry and features an antique dining table in solid oak and an original credenza from the historic Rubelli Grand Canal showroom. Artwork is by French artist Pierre Skira.

Media/ Library room
A super relaxing and cosy room to chill out in, with convertible sofas by French designer Sarah Lavoine, bookshelves designed by Porte Italia and original marble mantlepiece. This room is appointed with ultra-modern audio-visual equipment and a vast collection of musical CDs.

The Master bedroom
A light and airy bedroom with original fully restored pastoral frescoes and custom-made furnishings. The bespoke king-size bed from Porta Italia assures superior comfort and a highly enjoyable sleep experience. The master bathroom features a bath with shower, finished in beautiful dark striated marble and antique mosaics complementing the precious antique tiles by the famous Napoleone Martinuzzi who lived inthe palazzo at one time.

The Alcove bedroom (Nietzsche's room)
In many ways the heart of this apartment – the original bedroom occupied for several years by the German writer Friedrich Nietzsche and where he wrote several books, no doubt inspired by the wonderful atmosphere here. The original wood panelling has been fully restored to its original splendour, with fabric upholstery from Bevilacqua. To the left of the bed is a magnificent shower room designed by Boffi with exquisite marble finishes. To the right is a separate WC with sink.

The Green bedroom
Showcasing an antique bureau from the Rubelli showroom, divine antique mirror wall-panels from France, and a beautiful freestanding bathtub, this bedroom is pure hedonism. The bed has been custom-made by Porte Italia.

Kitchen
The fully equipped kitchen is designed by Boffi and features marble countertops and brass-clad custom-made panels, with state-of-the-art equipment including two refrigerators, two ovens, a dishwasher and freezer all by Miele. Use of wine refrigerator by arrangement.

Terrace
The fabulous terrace is accessed from the media room next to the main salon. Its door is a spectacular art-nouveau masterpiece by Murano artist Napoleone Martinuzzi. The large space is decorated with high-end furnishings by Kettal and boasts open canal views. An ancient stone fountain provides soothing water sounds, conducive to wine tasting meditation, or more simply just sunbathing en plein-air.
Ann-Marie's comment: This is a completely wonderful palazzo apartment in a tranquil location only 15 minutes from San Marco, beautifully restored to the highest level and furnished in a highly personal eclectic style by its stylish owners. A palazzo water gate and stunning terrace completes the picture here. Amazing
Further information about this apartment
Floor plan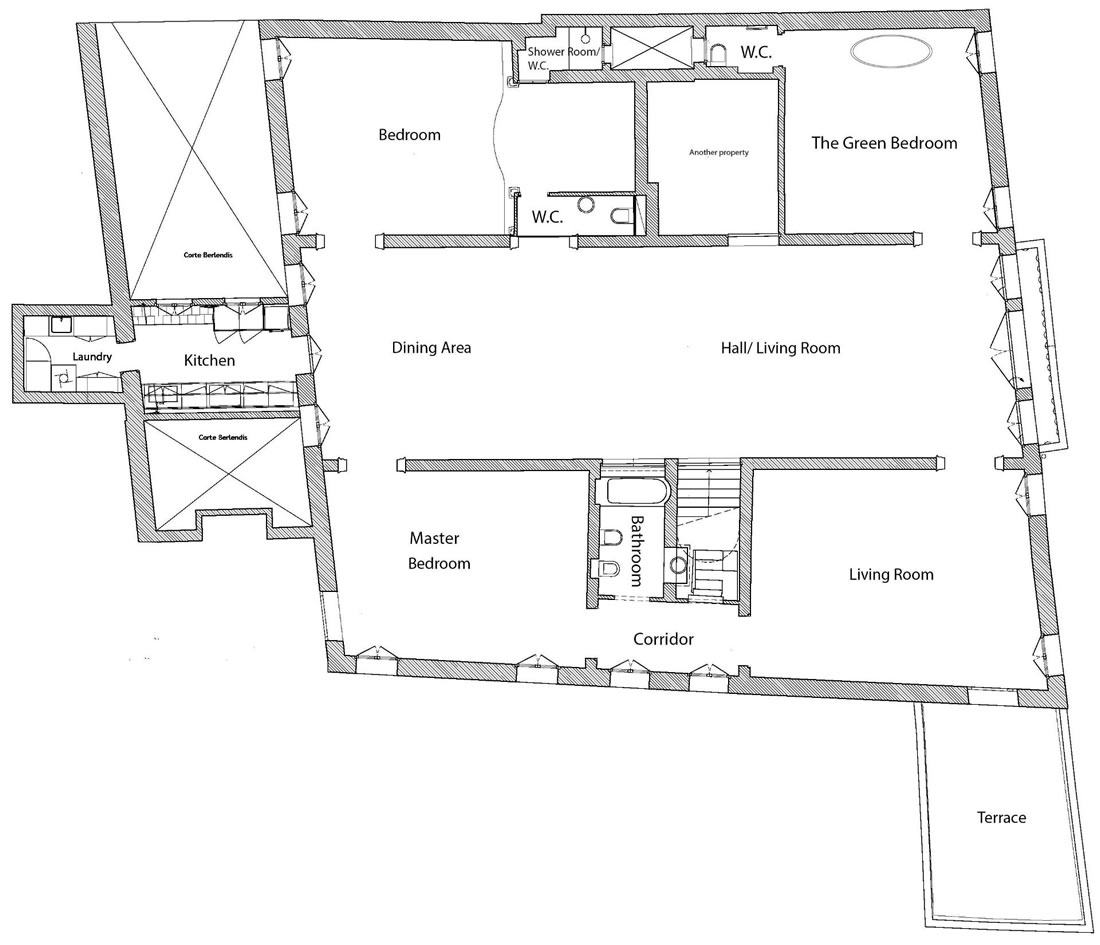 Location
Cannaregio
Cannaregio is a treasure trove of ancient highly decorative properties, hidden secrets, tranquillity and peace. Only about 15 minutes walk from Rialto, it could be a different world. Well served by all forms of transport, and with some excellent restaurants and bars, it's an area where much is still to be discovered. Take a couple of steps away from the shopping heaven of the Strada Nuova and you find yourself in the picturesque, hip waterways of Rio de Ognissanti and Rio della Misericordia, home to the Venetian summer movida. Here excellent cafés, wine shops and restaurants abound.