Marina at a glance
Nestled in the gorgeous gardens of this Venetian Palazzo, Marina is an independent one-bedroom maisonette with dual access (from the gardens of the palazzo and from a side calle). This 40 m2 space is on two levels and provides guests with a feeling of privacy and peace. It is composed of a double bedroom, a living room with open plan kitchen area, bathroom, and benefits from with private area of the large palazzo garden.
Property description
On the ground floor is a charming living room with a deep, comfortable sofa seating area, a round marble-topped table with four chairs, and a slick kitchen with custom-made cabinetry. Its tranquil ambience is enhanced by the surrounding nature brought into the space by four windows arranged on all sides. The selection of neutral colours and materials was made to create visual continuity and harmony. Off-white marble floors in Venetian terrazzo reflect the copious light filtering through the blinds and contribute to the overall sense of serenity and comfort. Modern light fixtures in white chrome by FLOSS add a touch of sophistication and drama.

On the first floor is an intimate bedroom with en-suite bathroom. An ethereal and dreamy effect is generated by the use of texture and colour. Whitewashed wooden beams and light-toned oak flooring reflect the copious light flooding in through the four windows, facing the canal and garden. An ample cabinet and dresser allow for proper storage of clothing, while a cozy sitting area gives depth to the room. The bathroom is superbly detailed, with high-end finishes that include Istrian Stone, antiqued mirrors and hand-built cabinetry.

The apartment's interior design features a combination of natural and precious fabrics such as Italian cotton paired with embroidered silk made in Venice. Walls are finished in Venetian plaster, floors are in terrazzo marble, and sconces and lamps are in Murano glass, imbuing the modern space with local accents reminiscent of Venetian living. The overall effect is a stunning display of modern chic with a local charm making guests feel both at home and abroad.
Ann-Marie's comment: Yet another gorgeous apartment in this very high standard palazzo..the perfect pied-a-terre
This is one of the apartments in San Polo Palazzo Residence.
Further information about this apartment
Floor plan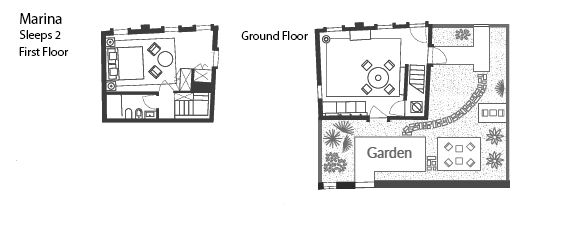 Location
San Polo
This area features some of the city's most important monuments such as the Frari Church, the Scuola di San Rocco and the Carmini church. Filled with, restaurants and bars, this section of town is nicely populated by young families and has a very local Venetian feel, with good food shops and artisan ateliers. Piazza San Marco can be reached on foot in approximately 20 minutes.