Aquamarina at a glance
Located on the third floor of this lovely Venetian Palazzo, Aquamarina is a one-bedroom, one-bathroom apartment measuring 70 m2, contemporary in design, and featuring exposed whitewashed wooden beams, walls in Venetian stucco and oak floors. Thanks to its large space and with the added convenience of a sofa bed, it is ideal for young couples and families.
Property Description
On entering the apartment, you see a superb 18 sq.m kitchen with two windows overlooking the palace's interior courtyard. The space is equipped with modern appliances, custom-made cabinetry, and a large round table with chairs surmounted by a modern chandelier in glass. The inner hall leads to a magnificent bedroom with a large dressing and sitting area overlooking the palazzo's private garden and canal. The king-size bed faces a flat screen TV with cable satellite reception.
A luxurious bathroom with walk-in shower in Istrian stone and gorgeous views of the canal through its bull's eye window. The living space is cool and comfortable with two overized sofas and a sofa bed, a large rug, three sets of lamps, and a round coffee table in stained iron. Low ceilings create a cosy atmosphere and a harmonious balance. The low sofas offer a privileged vintage point to gaze on the marvellous canal and rooftop panorama, visible through the bull's-eye windows. Oak floors.
The apartment's interior design features a palette of natural tones, such as tan and beige with dashes of brass, gold and green. Walls, floors and surfaces are done in light colours in order to maintain visual continuity throughout the space. Lighting is calming yet efficient when direct lighting is needed. A mix of floor lamps, lamp sets, and indirect illumination is used to obtain the desired effect or degree of lighting. Altogether a very relaxing and laid back living space.
*Lift to the second floor, then fifteen steps to the apartment.
Ann-Marie's comment: Stylish and comfortable with all the benefits of the communal features of this lovely palazzo
This is one of the apartments in San Polo Palazzo Residence.
Further information about this apartment
Floor plan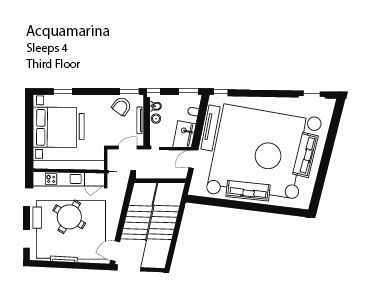 Location
San Polo
This area features some of the city's most important monuments such as the Frari Church, the Scuola di San Rocco and the Carmini church. Filled with, restaurants and bars, this section of town is nicely populated by young families and has a very local Venetian feel, with good food shops and artisan ateliers. Piazza San Marco can be reached on foot in approximately 20 minutes.