Cardamom at a glance
Located on the first floor of this beautifully restored Venetian Palace, Cardamom is a lovely 50 m2 apartment with an open plan living room and kitchen area, bathroom, double bedroom with a private terrace: a magical outdoor retreat where guests can delight in a glass of Prosecco or breakfast alfresco. Extraordinary beamed ceilings and tall windows contribute to an overall sense of grandeur.
Property Description
On entering the apartment you will be immediately hit by its imposing yet soothing atmosphere. A plump sofa in sandy coloured linen faces a 27' TV with satellite receiver. Muted earth tones are offset by dashes of crimson red in the embroidered cushions by Bevilacqua and Murano glass fixtures. Two large windows looking to the courtyard illuminate this area which extends into a design kitchen with custom-made cabinetry and a counter with barstools.
Adjoining the kitchen a sliding door leads to the bathroom and bedroom.
Superbly detailed with high-end finishes that include Istrian Stone, Murano glass appliques and hand-built cabinetry, the bathroom is conveniently located before the sleeping quarters and offers sufficient privacy when entertaining guests.

The 19 m2 bedroom overlooks the refreshing greenery of the terrace, and is the perfect oasis of peace and relaxation. Precious fabrics in tones of red grace the king size bed. Exposed ceiling beams in natural tones bring warmth to the room, contributing to a soft, gentle lighting. Murano glass sconces and table lamp sets shimmer with light creating a kaleidoscopic effect at sunset, when the time is just right for an aperitivo on the intimate en-suite terrace.

The apartment's interior design features a combination of natural and precious fabrics such as Italian cotton paired with embroidered silk made in Venice. Walls are finished in Venetian plaster, floors are in terrazzo marble, sconces and lamps are in Murano glass, imbuing the modern space with local accents reminiscent of Venetian living. The overall effect is a stunning display of modern chic.
This is one of the apartments in San Polo Palazzo Residence.
Further information about this apartment
Floor plan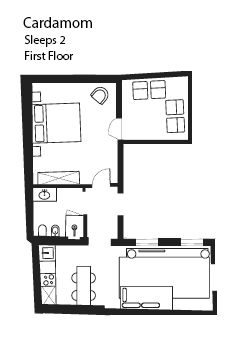 Location
San Polo
This area features some of the city's most important monuments such as the Frari Church, the Scuola di San Rocco and the Carmini church. Filled with, restaurants and bars, this section of town is nicely populated by young families and has a very local Venetian feel, with good food shops and artisan ateliers. Piazza San Marco can be reached on foot in approximately 20 minutes.