Ariosa Terrazza at a glance
Located on the top floor (with lift) of an 19th century Venetian Palazzo close to Piazza San Marco, this three-bedroom / four-bathroom apartment with panoramic roof terrace is a contemporary home-away-from-home: very well appointed, stylish and full of light
Property description
Exceptionally well positioned, a stone's throw from Piazza San Marco and seconds from the famous San Zaccaria Church which houses Bellini's masterpiece Madonna con Bambino, this well-planned home is composed of a very large main living area with open plan kitchen, two double bedrooms (one of which is en-suite), a third bedroom with European Queen bed and en-suite bathroom. On the upper floor is a guest bathroom and magnificent terrace giving open views over the city's rooftops and monuments. In the distance one can see St. Mark's Basin and the island of St. Giorgio with its famous church by Andrea Palladio.
This home has been recently renovated to an exacting standard by its visionary owners. The works have focussed on preserving this apartment's unique features such as the original wooden beams and magnificent terrazzo floors while enhancing it with today's modern convenience - a fully integrated sound system by sonos, state-of-the-art kitchen and appliances, super modern bathrooms.
The expansive living room is stunningly beautiful with 11 panoramic windows encircling the space and bathing it in sunlight. The views are spectacular - affording breath-taking snapshots of Venice's rooftops and monuments.
All three bedrooms are in pristine condition, with white furnishings and light colour bedding, enhancing the modern contemporary feel. Mattresses and pillows come from one of the world's leading bed manufacturers and are extremely comfortable.
Bathrooms are beautifully presented with luxurious amenities and velvety towels. On the top floor is the access to the wonderful terrace, equipped with comfortable sofas from which to admire the impressive Venetian panorama. There is even a shower, to cool down while sunbathing. This apartment, while being in the historic centre, benefits from a fabulous relaxing vibe with its amazing open plan design and contemporary design styling
BEDROOMS & BATHROOMS
Bedroom 1 - Master: king size bed, large shower, Bidet, double vanity
Bedroom 2: king size bed, bathroom with shower across the hall
Bedroom 3: European queen with ensuite bathroom with free-standing bath tub and walk-in shower

Ann-Marie's comment: we have followed this restoration from an original 'family' apartment to the stunning contemporary home it is today. I love it. In such a good location too, not only for San Marco and the historic centre but also the Danieli, the Biennale and the Lido. It's perfect
Further information about this apartment
Floor plan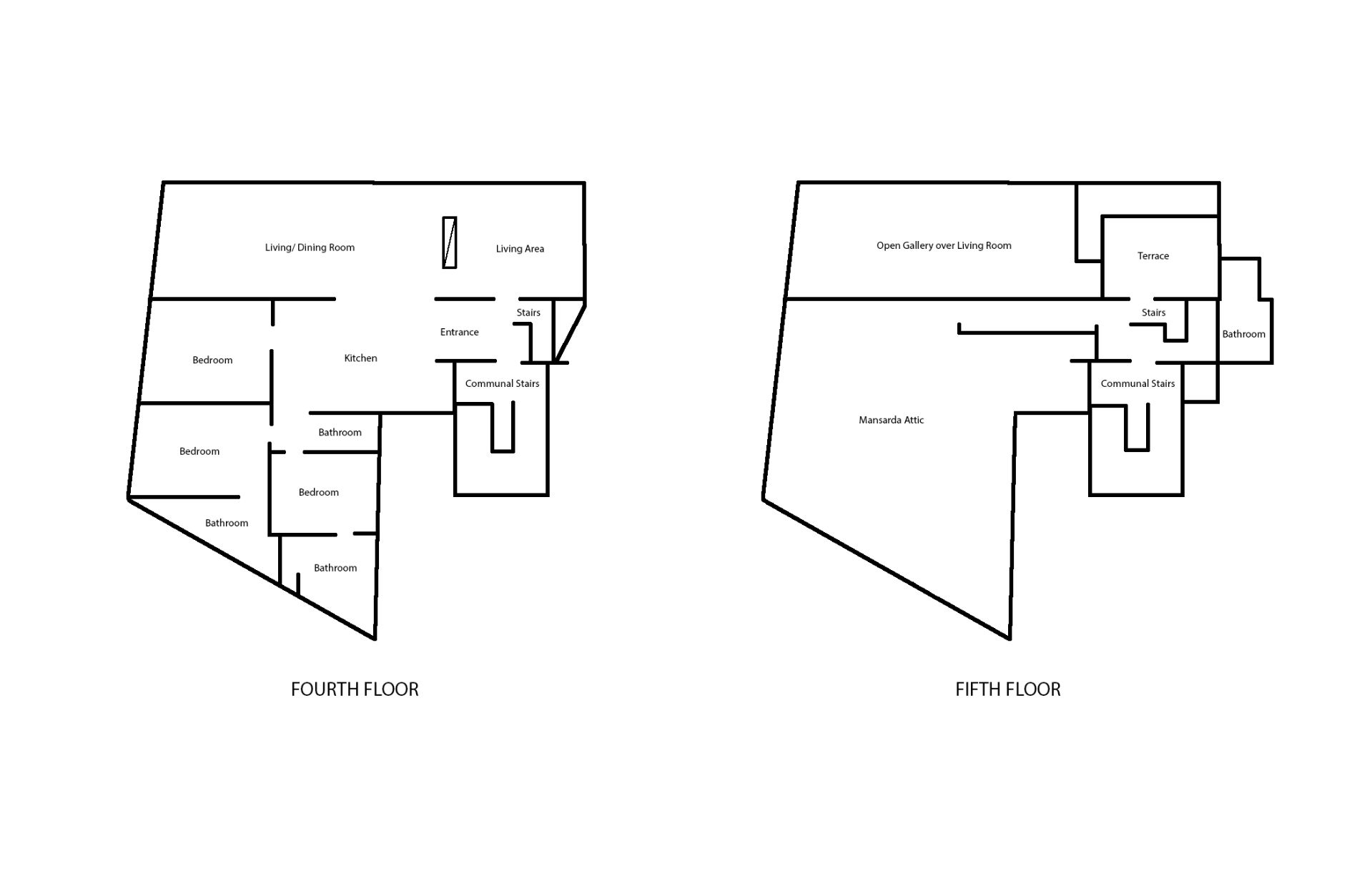 Location
San Marco
This is the historical centre of the town with Piazza San Marco at its very heart and with Venice's most coveted museums: Palazzo Ducale and Museo Correr. The buildings in this area of town are all on a fabulously grand scale. You will find most of the designer shops and luxury brands around here, including a number of fine jewellers and designers hidden among the colonnades of the piazza itself. The best time to visit is in the evening when the sun sets over the curved domes of St. Mark's Basilica and live music sweeps across the piazza, defined by Napoleon as the "finest drawing room in Europe".