Indulge in luxury with this newly refurbished south facing Piano Nobile apartment on the Grand Canal boasting top level amenities and designer finishes, while tasteful interior design features rich Venetian textiles by Rubelli, exquisite high-end furniture, and stunning artworks that seamlessly complement the palace's impressive architecture and decor.
This south facing Piano Nobile is bathed in natural light and enjoys delightful reflections from the Grand Canal. As you step inside, the first thing you will see is the original Private Chapel, which completely sets the scene for this exquisite property
The apartment's layout is classic, with a central lounge or 'portego' serving as both a spacious living and dining area, with several rooms leading off on either side.
To the right, a second living room with balcony overlooks the Grand Canal, while to the left and also overlooking the Grand Canal a master bedroom and ensuite bathroom, with stylish stand alone tub and separate shower. A further two bedrooms, also ensuite are on either side of the main portego, with one facing the courtyard. A very satisfying and convenient layout
A fully-equipped and very stylish kitchen completes this divine space, with custom-made black lacquer and gold-leaf cabinetry, and all the appliances you would expect from such a stylish interior.
Every detail of this apartment exudes luxury and uniqueness, from marvellous wall coverings and rich fabrics to advanced technical features and top-of-the-line facilities.
The location of the apartment is ideal, in a pivotal position to enjoy every part of Venice, and surrounded by some of the city's best shops and restaurants, perfect for exploring the city before coming home to relax in comfort and style
Ann-Marie's comment: A super stylish light interior of an ancient palazzo which really combines classic and luxe .... and on the Grand Canal. What more does anyone need....
Further information about this apartment
Floor plan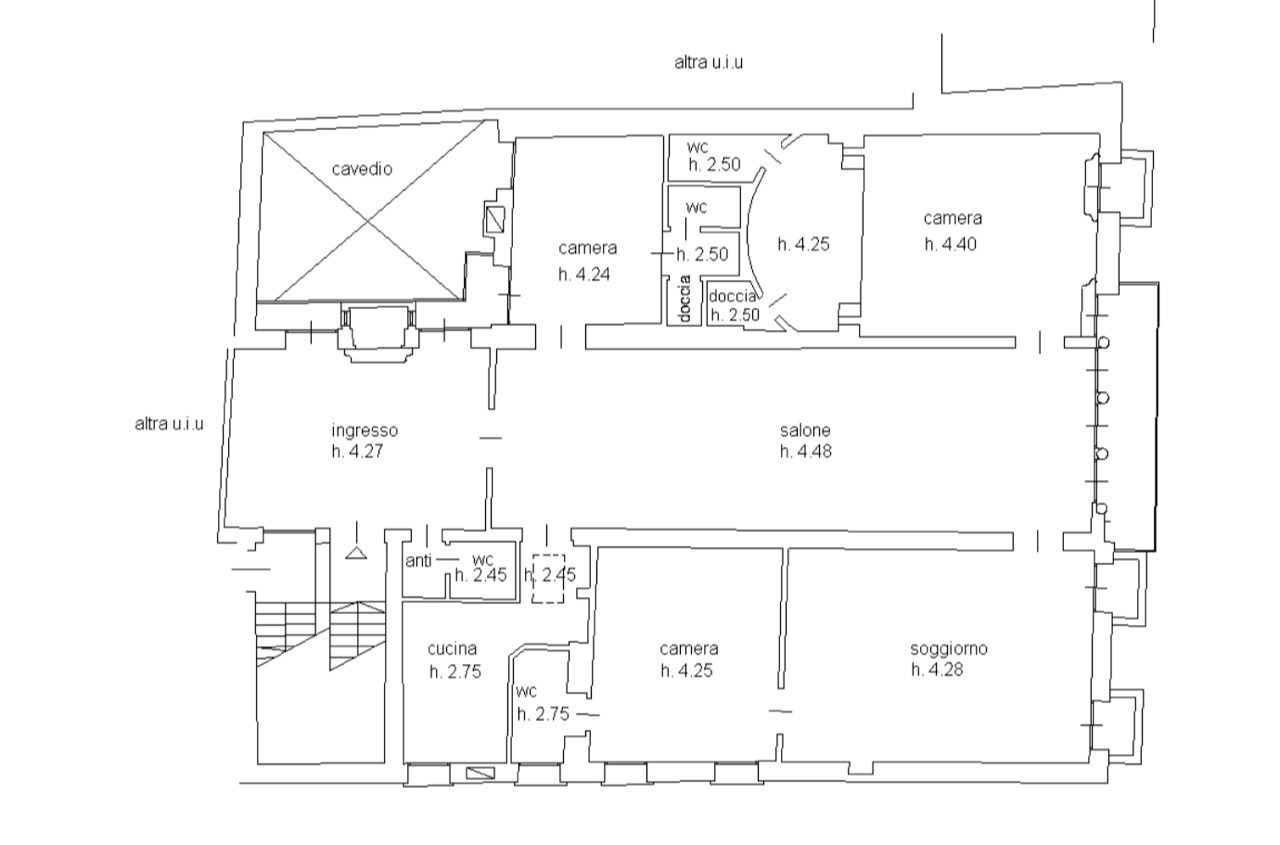 San Polo
This area features some of the city's most important monuments such as the Frari Church, the Scuola di San Rocco and the Carmini church. Filled with, restaurants and bars, this section of town is nicely populated by young families and has a very local Venetian feel, with good food shops and artisan ateliers. Piazza San Marco can be reached on foot in approximately 20 minutes.