The Grimani apartment is a spacious and luxurious one bedroom 60 sq.m apartment which can be connected to the Vendramin apartment, a one bedroom 50 sq.m unit. Amazing! The Grimani apartment itself features a large living room with two sofa beds, kitchen, a stunning double bedroom with high-quality Rivolta & Carmignani bed linen, and both a lavish en-suite bathroom and second bathroom with lush thick towels
The living room is cosy and inviting, with two elegant grey sofa beds, two armchairs, a coffee table, and a comfortable dining area for four. The room is furnished with a bespoke cabinet covered in chic carta, while the walls are embellished with Venetian stucco in a tasteful cipria hue. The space is bathed in natural light that pours in through three large windows, which offer breathtaking views of the Venice rooftops. The shades are made of exquisite white linen, and the decorative rose curtains on either side add a touch of elegance to the room's ambience.
The fully equipped kitchen located adjacent to the living room. comprises decorative marble countertops and top level appliances, including an oven, induction hob, and dishwasher
The double bedroom is designed with utmost sophistication and features a unique headboard that is custom-made with Venetian fabric, mirroring the waves of the Venetian lagoon. The bed linen is from top brand Rivolta & Carmignani, while the sconces are by the renowned designer Gio' Ponti. The room is furnished with vintage furniture, which completes its overall aesthetic.
The apartment has two bathrooms, one of which is fitted with a shower, and the other, located just off the master bedroom, is equipped with a luxurious tub. The bathrooms are adorned with exquisite marble and feature terrazzo floors and Venetian stucco walls in a delightful rose hue.
Ann-Marie's comment: La Maison des Artistes is a wonderful addition to our Prestige Collection. With extraordinary views and two beautiful terraces, it's the perfect place to enjoy stylish living at its best, and in a great location. Styled by top Venetian designer Umberto Branchini to combine Venetian tradition with his unique contemporary style, his use of colours and precious materials, from marmorino to pastellone and to the precious marbles of the bathrooms is state of the art. The selection of objets, antique furniture, and lamps embodies the rarefied and unique atmosphere of private homes in the city. "The idea was to fuse the style of an artist's studio with design elements inspired by the Renaissance" The shapes of the sofas, beds, and armchairs give a new interpretation to the silhouettes of the palace facades, the typical 16th-century Venetian patrician shoes, and the search for precious fabrics made to measure, some of which are inspired by the mosaics of St. Mark's Basilica. All in a Venetian style of sober elegance and sophistication. La Maison des Artistes comprises spacious and comfortable suites, each composed of a living area with day-beds, a double bedroom with private bathroom as well as a guest bathroom, as well as a breakfast area, a separate bar or equipped kitchen. Some of the suites are inter-connecting, making it possible to book some or all of the units for semi-exclusive or exclusive use. The versatility of use of the suites and common areas provides for a bespoke experience suitable for any type of request and desired type of stay. Each suite also has Wi-Fi, air conditioning, TV, and bathroom accessories. In the communal space, you have access to a characterful large reading and relaxing area with 17th-century wooden beams and a large window; comfortable armchairs inter-mix with design tables and padded chairs - the perfect place to have lunch, write or simply relax. On request, it is also possible to experience a culinary experience thanks to the large kitchen with bar overlooking a large terrace equipped for breakfast, lunch, or dinner. On the top floor, there is a bar area open to all with a furnished terrace and a spectacular view of the most beautiful point of the Grand Canal; it can also be exclusively booked out
This is one of the apartments in Maison des Artistes.
Further information about this apartment
Floor plan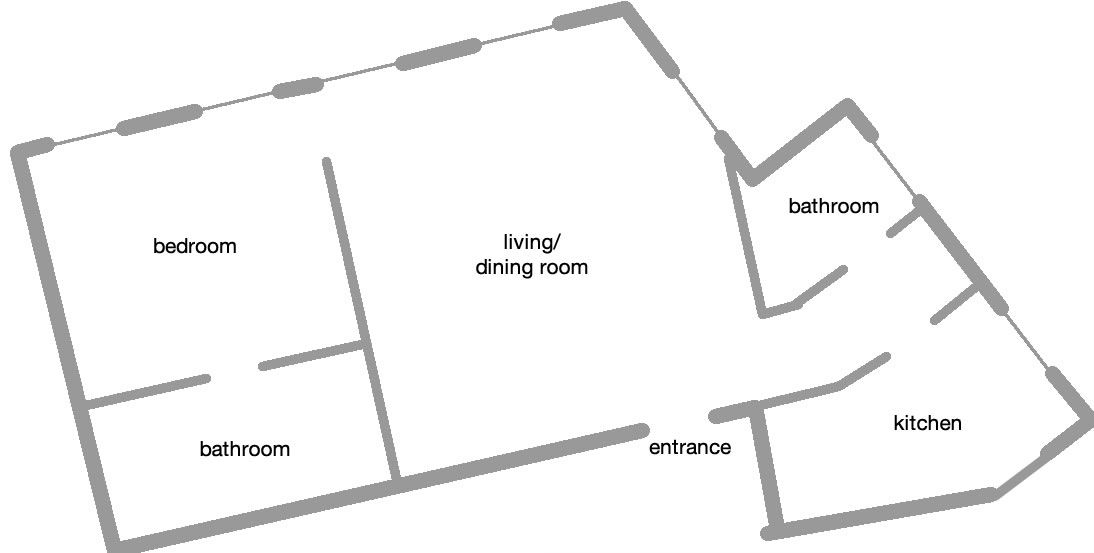 Location
San Polo
This area features some of the city's most important monuments such as the Frari Church, the Scuola di San Rocco and the Carmini church. Filled with, restaurants and bars, this section of town is nicely populated by young families and has a very local Venetian feel, with good food shops and artisan ateliers. Piazza San Marco can be reached on foot in approximately 20 minutes.