Palazzo Castello Terrazza at a glance
Situated in the authentic Castello district, very close to the Biennale exhibition area, this grandiose five-bedroom/five-bathroom apartment stretches across the entire second floor of an imposing 14th century palazzo.

Property Description
Set on the building's second piano nobile (reached via elevator), this 320 square meter residence counts a number of spacious rooms which, in early Venetian history, were used by the Palace's aristocratic dwellers for receptions and entertainment. Towering gothic windows, sky-high ceilings, original terrazzo floors bear testimony to the building's glorious past.

From its privileged position, the apartment boasts a birds eye vista over Venice's domed skyline. Free on three sides, copious light pours in through the massive windows and, on pleasant spring days, a cool breeze flows steadily around the apartment.

One of the apartment's most impressive features is a vast terrace, giving panoramic views over the lagoon, the domes of San Marco and the rooftops of Venice. A comfortable lounge area with plush sofas characterises the space.
The apartment's entrance opens into a large dining hall featuring a beautiful table seating up to fourteen guests. The space is convivial and elegant, creating the perfect setting for fun-filled soirees with family and friends.

Branching off from this central salon, are a series of rooms. Two double doors open onto the main drawing room with original casement windows framing a picturesque view of Venice and the canals below. This is a bright, luminous space furnished with contemporary B&B Italia sofas and sleek furniture.

Just beyond this room is a second, stylish dining area or studio, which adjoins a state-of-the-art cinema/music room equipped with art-house DVDs.

A fully accessorized kitchen flanks the main dining room and offers a well-proportioned workspace for cooking or, more simply, an intimate setting to raise your glasses in a toast! A small breakfast table with two chairs complements the space.

The apartment has been recently refurbished by its owner, a well-known architect who has successfully combined antiquities, gilt mirrors and chandeliers with modern pieces creating a comfortable, elegant and stylish ambience.
Ann-Marie's comment: A stylish concoction of minimalist and traditional style, this is the ultimate place for an extended family group or friends wanting to be together but with a lot of space to chill out and relax. These stylish owners really have thought of everything!
Further information about this apartment
Floor plan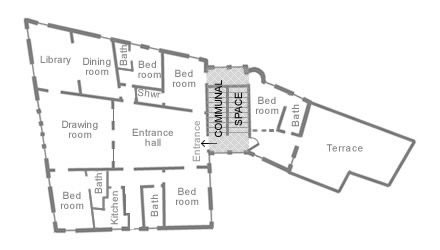 Location
Castello
Castello is perhaps the most charming area of Venice, where tourism is fairly minimal. Although only a few minutes from San Marco, it is quiet and residential with a good local feel. Here buildings are more quaint and popular, often displaying towards Arsenal colourful laundry hanging above, giving a sense of busy human activity. It is the perfect area for anyone seeking an authentic Venetian experience and for foodies in the "know" who go there to dine in some of the city's premier restaurants, such as Al Covo and Corte Sconta.
Feedback
We had the best of times in Venice. Truly magnificent apartment and managed to stay away from the throng most of the time and enjoy the real Venice. The apartment staff were perfect and extremely helpful and all in all we could not have asked for any more from the visit, not from you and the office who made it all work seamlessly. You run a terrific operation. I have no doubt that we shall return, if not next year, then in the near future. Very happy that after this trip we shall not need to go back to Harry's Bar. It was understandably a must for the Americans given the history. As I expected from my last visit there, it was the least memorable meal that we had. However, Locanda Cipriani was another story, as was Corte Sconta round the corner from the apartment.
J.P.R.W.
We had a wonderful time in Venice. The palazzo was beautiful and we hugely enjoyed our stay there. I loved the way its decorated and its views. Very special indeed. The kitchen was well stocked with basics.
J.S.
We really had a very lovely time during our stay in Venice and Palazzo was beautiful. Thank you for your excellent organisation.
U. & I.E
In the media
This apartment has been featured in The Telegraph (February 2015).