Serafina at a glance
Serafina Grand Canal is a sumptuous 4 bedroom/4 bathroom piano nobile with awe-inspiring views, located in an important historical palace near San Marco.
Property Description
Sitting at the entrance to the Grand Canal, Serafina affords a wide scope view of Venice from St Mark's Basilica, to Isola di San Giorgio Maggiore to the Accademia Bridge.
Upon arriving by private water taxi to the palace's exclusive jetty, guests are welcomed by a property representative, who swiftly escorts them by elevator to the apartment. The entrance hall opens up into a huge drawing room with large windows giving onto a balcony from where to marvel at awe-inspiring views.
Light pours in from the double-height Gothic windows and throughout the day draws the viewer's attention to the magnificent antiques, Venetian tapestries and Fortuny fabrics. To the side of the living room is a formal dining room with a separate, well equipped service kitchen.
A curving wide stone staircase leads to the second floor where four extremely comfortable and well-appointed bedrooms (three double and one double/twin) are located. A walk-in wardrobe, marble bathrooms and a striking compilation of artwork complement each bedroom.
On the second floor, above the main reception, is a gallery sitting area with television affording stunning Grand Canal views as if on a boat.
Also on the second floor, above the main reception, is a gallery sitting area with TV affording stunning Grand Canal views - the views from this gallery are exceptional - as if on a boat - as the windows onto the Grand Canal are double height. An experience in itself.
Ann-Marie's comment: The property is of the highest standard yet also comfortable and liveable, in a beautiful and famous 'palazzo signorile' with concierge, and private palazzo water gate access. Very close to the Calle Larga XXII Marzo, the best shopping street in Venice, with Ferragamo, Burberry, Prada and Chanel just a stone's throw away. It is the perfect property for anyone seeking the highest standards in one of the most wonderful positions in Venice, on the Grand Canal overlooking the Salute and beyond. Elegant and super comfortable.
Further information about this apartment
Floor plan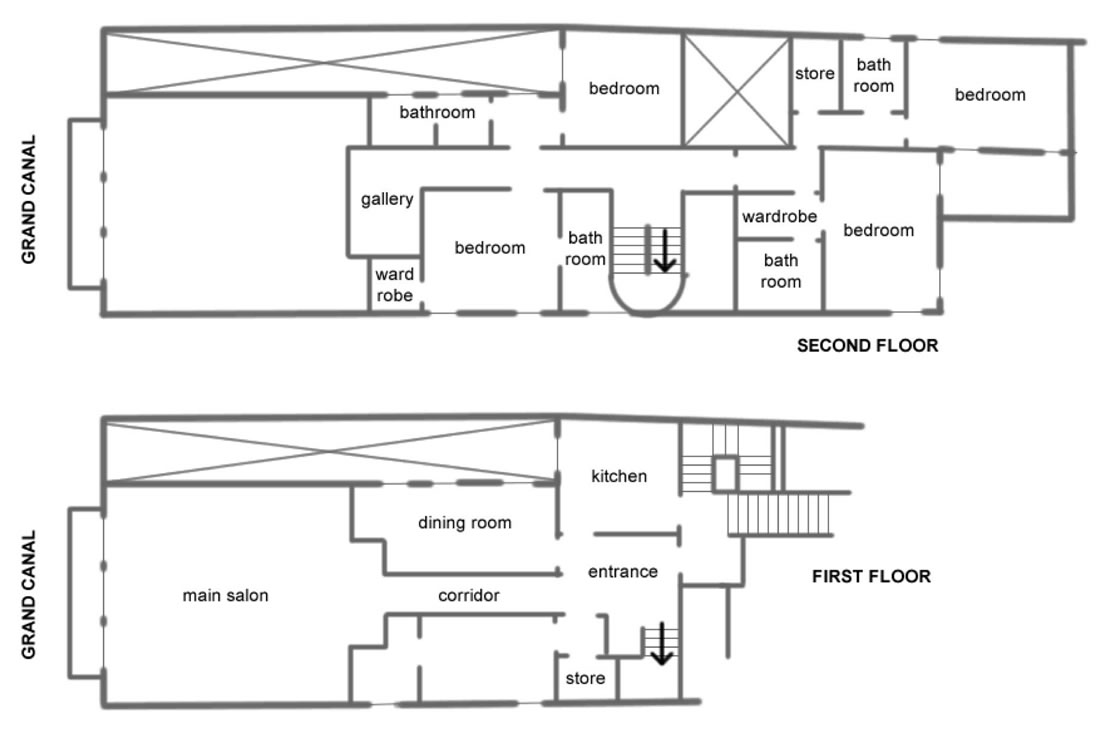 Location
San Marco
This is the historical centre of the town with Piazza San Marco at its very heart and with Venice's most coveted museums: Palazzo Ducale and Museo Correr. The buildings in this area of town are all on a fabulously grand scale. You will find most of the designer shops and luxury brands around here, including a number of fine jewellers and designers hidden among the colonnades of the piazza itself. The best time to visit is in the evening when the sun sets over the curved domes of St. Mark's Basilica and live music sweeps across the piazza, defined by Napoleon as the "finest drawing room in Europe".
In the media
This apartment has been featured in Victor Jet (May 2017).