Giustinian Luxe at a glance
This luxurious two-bedroom/three-bathroom apartment overlooks Palazzo Franchetti and offers partial canal views of the Grand Canal. Its location by the Accademia bridge is superb, strategically ensconced between the Sestieri of San Marco and Dorsoduro.
Property Description
Giustinian Luxe is perfect for anyone wanting the highest level of comfort, style and convenience.
The central living room is spacious and airy, with French windows facing the campo and side views of the Grand Canal. Comfortable sofas covered with precious textiles abound, creating a relaxed area conducive to casual interaction after a busy day in the city. This luminous room feels very much like a second home, with many personal touches and details, from gorgeous antique furnishings and decorative objects, to Venetian etchings and paintings.
The apartment features two master bedrooms with en-suite marble bathrooms (with jacuzzi tub with shower attachment). Both double bedrooms boast Vi-Spring mattresses. The master has a king size bed, while the second bedroom has twin beds (can be made into a king size on request). A third bathroom has a walk in marble shower and is accessed through a dressing room.
A cosy kitchen, off the living room, is fully equipped and leads to a small terrace with table and chairs. This delightful corner is the ideal refuge in hot summer months, offering a shaded outdoor heaven for sunset aperitifs or morning coffee.
This is one of our most beautiful tried and tested apartments, is fully recommended in every way and is excellently maintained by its careful owner.
Ann-Marie's comment: A really perfect apartment in exquisite "European" style and in a fabulous location. Absolutely gorgeous. For quiet family groups only; we are sorry to say that we do not allow young children in this apartment.
Further information about this apartment
Floor plan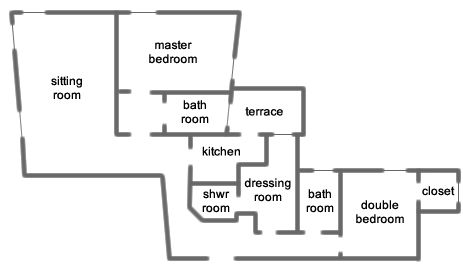 Location
San Marco
This is the historical centre of the town with Piazza San Marco at its very heart and with Venice's most coveted museums: Palazzo Ducale and Museo Correr. The buildings in this area of town are all on a fabulously grand scale. You will find most of the designer shops and luxury brands around here, including a number of fine jewellers and designers hidden among the colonnades of the piazza itself. The best time to visit is in the evening when the sun sets over the curved domes of St. Mark's Basilica and live music sweeps across the piazza, defined by Napoleon as the "finest drawing room in Europe".
Feedback
I have now been using Venetian Apartments for several years, often staying in different locations in the city. In every instance we have experienced not merely value for money but excellent service. On this occasion the apartment was nothing short of first class.The location, facilities and decor of this particular apartment were excellent in every way. It cannot be faulted. The lady who received us our arrival and who was present at our departure was utterly gracious and helpful.
D.F.
It is always a joy to revisit Venice and not stay in an hotel. The apartment and the quality of its appointment enhanced our stay immeasurably.
R.W.
We did have a wonderful stay at the Giustinian apartment and we look very much forward to being in touch with you for any future Venetian stays, as well of course recommending you to our friends.
J.C.